2-pol Electronic Thermostat 16A for Floor Heating:T2
The T2 thermostat is an electronic thermostat for electrical floor heating, designed to be mounted in a standard flush box. T2 is equipped with a 2 pole switch and fits into Elko RS12 and Elko Plus system frame. The thermostat can withstand a load of max 16A /3600W at 230V.
FEATURES
Floor sensor
Internal room sensor
External room sensor (wired by cable)
Temperature limiter
Weekly program/setback via gateway
2 pole switch
Lock mode/child lock
Calibration

SPECIFICATION
Voltage: 230V~50Hz
Dimensions (LxHxW):83.8*83.8*46.8mm
Total gross effect (W): 3600W
Hysteresis: 0,3°C to 3,0°C (default hysteresis 0,5°C)
International standard: CE
Protection grade (IP): IP 21
Load (Ampere): 16A
Max ambient humidity (%RH): 80%
Maxinstallation temperature: 40°C
Max current (Ampere): 16A
Max regulating temperature: 40°C
Max load: 3600W
Max temperature without load: 40°C
Max temperature with load: 35°C
Min installation temperature: 5°C
Own power usage (watt): 0.2W
The thermostat is applied to full load in areas with the altitude of less than 2500m above sea level. Power rating
of external load should be less than or equal to 80% rated power of the thermostat in areas with altitude of
2500m to 4500m.
INSTALLATION
WARNING:
a. Installtion must becarried by a qualied electrician.
b. Before installation, please check whether it conforms to local electric standards.
c. Power supply must be turn o when install and clean the thermostat.
(1) Wiring Diagram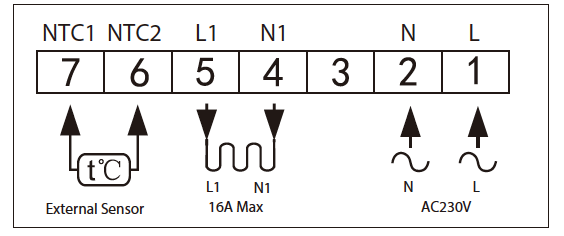 (2) Installation
1) Release front cover by inserting a head screw-driver into side crack.
2) Insert the wires and then x these wires with screws. Suggested wire-stripping length is 7-9mm.
3) Mount back part into junction box then screw the thermostat in. Make sure that the thermostat is xed
without deformation. Suggested torque is 0.2-0.4N.m ( 2.0-4.1kgf.cm).